It is undeniable that the last decade saw the emergence of eCommerce and its smooth acceptance by the public. Global giants like Amazon and eBay have influenced the buying habits of every household as well as impacted the economy in more than one way. However, there are many eCommerce platforms and standalone online stores which struggle to even make a mark. So, what has made the difference? Effective communication through customer support service!
Technically advance eCommerce businesses use an AI-driven interface to provide an excellent user experience and enjoy a good conversion rate. However, they lack the capability of building brand intimacy, after all, people appreciate "real communication". Some customers still favour person-to-person communication for their after-sale service or redressal; solely for the purpose of 'confidence'.
Customer service plays a crucial role in setting a business apart from its competitors. And when neglected, it can be a blunder. When customers are unsatisfied, they complain and give negative reviews but when these feedbacks are answered with sincerity and the willingness to upgrade, you leave a good impression on your audience.
So, what helps? Hiring an outsource customer service provider to achieve tailored eCommerce call centre solutions. They help keep businesses close to their customers and help maintain a positive reputation.
Why is e-commerce call center outsourcing needed for your business growth?
Everybody you look at is busy, even your customers. They have queries and they want them solved, immediately. It becomes overly challenging for any business to serve customers round the clock. So, ecommerce call center outsourcing is efficient because they serve as a 24/7 virtual assistant for customer care.
Staying effectively connected to customers is easy with top-notch technologies available these days. But getting your hands on all these technologies at once can burn a hole in your pocket. An outsource customer service team provides the functionality of all the latest technology, that too at reasonable prices.
Not every business has the infrastructure to set up a call center for customer support. Even if that's done, then comes the daunting task of hiring individuals to work as a support service team. And this is a huge cost if you sit to comprehend. This is the reason most business heads choose to hire outsourcing partners to divide the responsibilities. Outsource customer service teams have flexible and negotiable pricing and prove to be super cost-effective.
Running an eCommerce business does not just involve customer support service, but other functionalities that require superior management. Hiring an ecommerce outsourcing team of experts allows a business to filter out non-core functionalities to be handled by the third-party team. This gives an opportunity to manage core activities efficiently and add value to the business.
Outsourcing companies play huge support in savvy. They provide coverage during emergencies and eCommerce call center solutions in no time. Also, no business can work round the clock for the customers, which is unnatural and leads to unproductivity. So, an outsource customer service provider helps in such cases where expanded hours of work are required.
Did you know? 85% of customers stop shopping from an online store with irresponsive customer support services.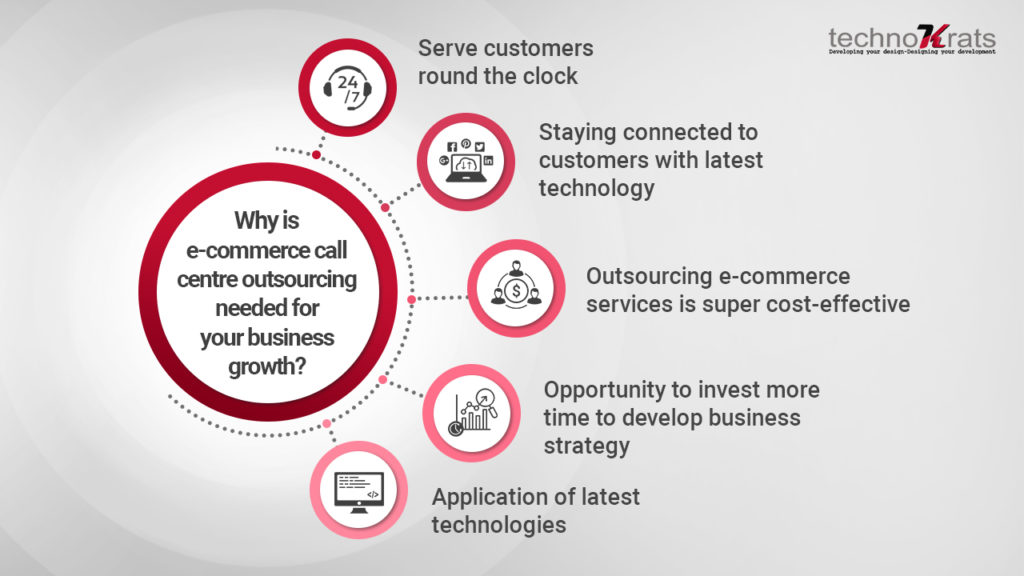 How can call centre outsourcing services help online shopping sites?
Every industry, starting from apparel to medicine and furniture to food products, has been touched by the innovation of the internet. And there is no going back. Online shopping stores showcase the products with vivid details and customers buy them.
But there is a struggle and exceptional management behind every online site running smoothly. Problems can arise at any level of the sales funnel. Customers are bound to have queries and not being able to clear the doubts means losing a potential customer. This requires diplomatic management over phone calls. And a person running a business may not excel in this field.
Outsource customer service providers with expertise in call center solutions prove beneficial and make the overall process smoother. This enhances customer experience and increases the popularity and sales of the eCommerce site. Word of mouth plays a huge role in the eCommerce marketplace. When a customer has a satisfactory experience, they review digitally as well as verbally in the public. So, when the goal is to achieve convertible traffic, outsourcing has an impacting part.
Advantages to customer service outsourcing for eCommerce:
With a growing business, there's a need for the expansion of in-house infrastructure, but that is costly. You already know the alternative option. Here are some advantages of outsourcing call center support:
Responsive customer support round the clock.
Handling customer issues and keeping them satisfied.
Support from an external pool of talented experts.
Outsourcing reduces pressure on the core team and enhances overall eCommerce management.
It is budget-friendly compared to in-house call center operations.
Outsource customer service providers excel in managing high customer demands.
With a quality team, data is secure.
Now, if you have decided upon benefiting from e commerce outsourcing services, here's what to look for in your outsourcing partner:
24/7 contact support: When will a customer call for queries is unprecedented. Your outsourcing partner must be available to answer customer calls and respond to their inquiries all the time.
Order Processing Expertise: Managing orders and sales, processing bills and returns, and tracking shipments are the responsibility of an outsourcing company. Yours must be able to shoulder these.
Help Desk: Helping customers whenever required is the job of effective customer support. They must be able to resolve minor issues and carry forward calls to the company for major cases.
Representation: From a customer's point of view, eCommerce shopping stores are faceless organisations they purchase products from. The only connection is customer support, and this team represents the organization to the public. Make sure your outsourcing partner represents it well enough.
Dubious customer support is a miserable eCommerce attribute. A strong and reputable foundation in the industry is built through repetitive events of positive customer experience. A functional call center infrastructure providing ecommerce service can help your revenues double up.
At TechnoKrats, we understand the value of your business and provide optimum support 24/7 to add more value. To no know get in touch with us; we would love to work with you.