In today's world, every business whether it is a brick and mortar store or a home based venture, strives to have a powerful digital presence. Even a small business owner who is basically a one man band, knows for local SEO strategy, it is just not enough to have a website with some pictures and text about your business. Though Google provides help in its local search interface in the form of Google Business Profile, how can local businesses ensure that they rank above their competitors?
Do you know that Google provides local service ads? Yes, you can up your listing in the local pack. Though the difference between paid and organic business profiles seems blurred, have you wondered why there are green marks on certain listings? Let us walk you through the latest local SEO strategies and acquiring the coveted Google Guarantee badge.
Local SEO Strategy 2023
Remember Google measures Expertise, Authority, and Trust, in order to encourage best practices for local pack ranking factors.
Google wants to ensure their engine's search quality constantly improves and it links to businesses that are genuine and trustworthy. Hence they rank sites based on E-A-T parameters and every webmasters strive to resonate their local SEO strategies on this line.
This is of great importance when it comes to local search as most people who are looking for something within their own area would be interested in a specific service or product rather than someone browsing the latest trends in computing.
If someone needs help to improve website speed, they are shown blogs and videos from around the world, as long as the language and basic parameters are met.
However, if someone looks for a locksmith or an emergency electrician, providing hyper local certified business listings assumes a much greater importance. One of the reason why affordable local SEO services have become so important for local businesses.
Local SEO Tool : Google Business Profile
When someone searches for a business service or place near their location, Google tries to show you nearby businesses in places like Maps and Search.
The only way-forward to improve your business's local ranking, is to use Google Business Profile. A Google Business Profile (or G-Suite account) is essentially an online presence specifically designed to help businesses attract local customers by making it easier for them to find your business when they search online.
It is free and simple to use, and allows businesses to promote themselves on search engines like Google as well as across other products such as Maps and YouTube.
An optimized Google Business Profile provides the best local SEO benefits, however the recent changes to the GMB dashboard has caused some concern among business owners and marketers alike.
The new NMX or the New Merchant Experience as the GMB update is being called provides business owners less flexibility with their assets because Google prioritizes crowdsourced content along with what business owners submit.
Local SEO Solution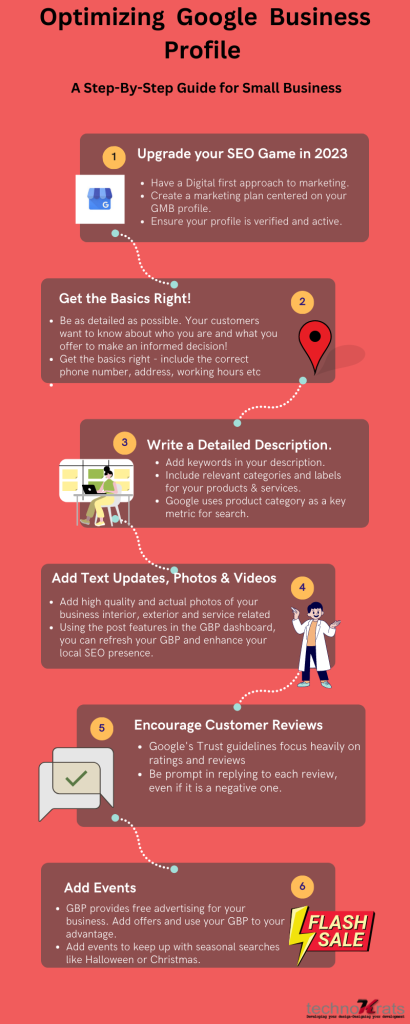 There have been many changes in recent years to Google Local Search and optimization of Google Business Profile should be a priority in local SEO for business owners.
Google is going the crowd sourcing public data route for local SEO, businesses must keep in mind that they need to monitor things like public reviews, pictures, videos etc.
Having proper information about your business is the most important bit when it comes to your business profile so that potential customers can learn about who you are and what you offer. Since local SEO strategy is based on E-A-T here are some of the important things for optimizing Google Business Profile.
Title
Having a good business title with an accurate description can help the algorithm decide whether to show the business in the rankings or not. A descriptive title like "ABC car rental company" as opposed to "ABC rentals" helps the business rank for appropriate queries and is very important.
Description
The GBP dashboard provides a form for details such as opening times, phone numbers and addresses of customers. You need to choose your location using the Google Map which is verified through post or over phone call.
Having a nice photograph of your location as your cover image instead of a general one, helps to authenticate your business and make it more inviting to people.
A detailed description about the business including details about how long a business has been operating for, any awards or mentions it has received is also an important point to note.
Information about holidays is also essential, so potential customers do not land up on a day when the business is closed. If you have any additional features like free parking or valet parking service, it is great to mention that as well, anything that differentiates you from the competition is good to showcase.
We also need to keep in mind that many businesses offer services at the customers premises like a plumber or security service and do not have brick and mortar premises for customers to walk into. These businesses can provide service areas they are active in so people can review the locations served.
Service Details
It is important to showcase your products and services in a proper manner so that people clearly know what to expect and what you are offering. Having keywords with search intent in your description with inclusions and exclusions go a long way to prep a customer before they actually make the call. If you have a lot of different products or services that you offer, GMB/GBP allows you to choose up to ten categories.
Having a great product or service catalog goes a long way to show professionalism and expertise and can translate into higher quality customers who wish to pay for genuine service.
Site Link
Linking a highly optimized site in your GBP is very important. Google algorithm reviews this along with its content to improve your ranking. While this holds true for all types of SEO, even local SEO.
Local posts
Using the post features in the GBP dashboard, you can refresh your GBP and enhance your local SEO presence. When you create a new post, you have the option to categorize it as any of the 6 types of posts available to all businesses:
You can use this to craft a business announcement, it can be anything from a new service launched or your social initiative in the area.
This feature is a crucial local SEO strategy to discover new leads while serving as catalogs of your product/service/ offerings etc.
Listed below are the different types of photos you can upload:
Cover: Displayed in search results on Google, this image is the most prominent
Logo: The image that displays next to the business name in Google search
Interior: Photos of your business's interior
Exterior: Photos showing the building, parking lot, or areas where customers can access the store
At Work: Photos taken on the job that are project-related (job sites) or results-oriented (case studies).
Team: Photos of an employee or group photos
360: Photographs taken by a Google My Business-verified photographer that give a 360-degree view
This part is contributed by your customers. However, always be prompt in asking for customer reviews and be sure to reply to every review whether it is negative or positive as this is a crucial ranking factor of Google.
You can post weekly/monthly offers on your product/ services with coupon codes. Taking advantage of hosting local events like a sale or special discount days will attract footfall to your business.
If you have an online event or an offline one, be sure to share this in your GBP. Utilizing this posting feature , you not only have your hands on free publicity on Google, and share it on other social platforms, but it also gives local SEO signals to the crawlers.
You can use this feature to answer important questions about your business. This will help customers in gaining more clarity about your product/services.
How to improve Local SEO
Local businesses have the opportunity to appear in the general search results as well as the local map packs. This allows greater visibility and this is why Local SEO needs a different approach.
Therefore we now come to Google's EAT guidelines. People want to connect with local businesses that are credible and genuine. Expertise and Credibility are hard to determine online with just a listing, therefore, Google utilizes multiple other signals to check whether a business is reliable or not.
The algorithm utilizes signals like customer reviews, local citations and review sites. This is why it is important for businesses to get customers to write reviews for them along with building a presence in their local community through online posts, newspaper mentions as well as business listings.
Voice search is becoming an integral part of mobile search, hence listing in Apple Map and Bing map is imperative. Local citations like Hotfrog and your local Chamber of Business, participation in industry specific forums and local community forums imply your authority.
However, make sure all your citations have the same business details as the ones in your Google Business Profile. Different information in more than one listing will confuse the Google robot and decline your ranking.
Of course other best practices of local SEO is having a well maintained website with regular blogs, active link building, and responding to reviews by customers still hold true and are important for maintaining any business.
Google Guarantee Badge
Google has come up with Google Guarantee badge for certifying local businesses to tie in with the Trust portion of Google's EAT guidelines. If a business is backed by Google guarantee, then if someone is not satisfied with a specific business's service they can request Google for some compensation up to specified limits and at Google's discretion.
In addition to background checks, business registrations, insurance, and license checks, and minimum review requirements, the verification process varies by category and location. Though the screening process for Local search ads, seems a bit complex, however, it provides the most sought after 'TRUST' stamp, that gives an edge for customers to go for your service.
The Guarantee badge also provides a booking feature through one of their partners: Housecall Pro, Jobber, Scorpion, ServiceTitan, or Workiz. Once your business is backed by the Google Guarantee, you can run Local Services Ads to appear at the top of Local Search. You'll only be charged when they contact you.
Local Service Ads also allows you to advertise directly on Google Maps which is a powerful way of attracting customers to your business.
Going Forward
Since automation and machine learning are making inroads in digital advertising and SEO as a whole, companies need to focus more on the human aspect of things as the human touch will become more important as AI continues to grow.
However, having an excellent customer service is one of the best brand strategy. Things like having a human point of contact when somebody gets in touch goes a long way to grab customer attention instead of a generic reply by an AI assistant.